Roland oil ink printer is suffering from 1.6m RF-640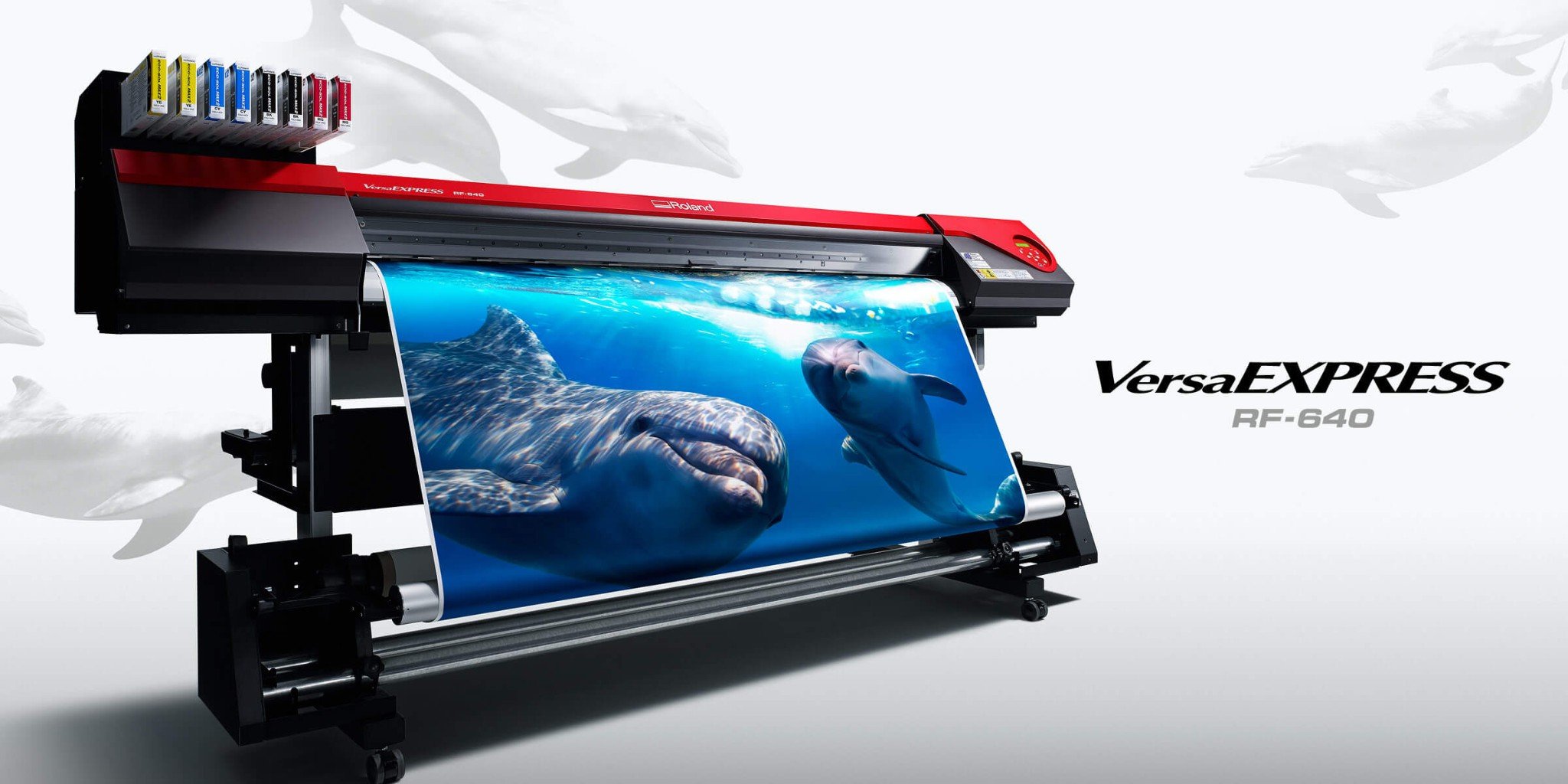 Technology leader
The Roland VersaEXPRESS RF-640 offers the perfect recipe for success in the printing industry: fast printing speed, absolute print quality, ease of use and absolute reliability. The inventor of the RF-640 series shows the ability to produce high quality images and products, while maintaining low operating costs. That increases production output, satisfies customer needs and helps your business maximize profits.
Quality: Absolute image quality and vivid colors
RF-640 kết hợp đầu in cao cấp hiện đại nhất được chứng nhận bởi Roland's GREENGUARD Gold, mực in low-VOC ECO-SOL MAX 2 tạo ra những hình ảnh màu sắc nét, sinh động và phong phú. Dòng mực hòa tan thân thiện với môi trường không chứa hợp chất mạ kềm, mang lại độ bền lâu dài vượt trội đối với những sản phẩm trưng bày ngoài trời và tạo mùi hương dễ chịu. RF-640 được trang bị nhiều chức năng hiện đại cho phép người dùng có thể in khổ lớn, nhiều mẫu áp phích quảng cáo trong nhà và ngoài trời…
Cost savings
The RF-640 is designed to reduce operating costs and ease maintenance. Accurate inkjet technology with optimized ECO-SOL MAX 2 ink line helps users save ink up to 20% compared to previous models. The RF-640 is also equipped with an automatic cleaning function that minimizes the amount of ink used and protects the print head. Therefore, the RF-640 will bring high efficiency when printing and saving ink.
Performance: The design is speed and stable
The RF-640 shows the most advanced print adjustment technology, which can print 48.5 m2 / h, almost twice as fast as previous models. The re-designed roll system supports high-speed and high-volume printing, equipped with two rigid axes to keep the coiled roll fixed to help produce highly accurate and reliable images. The RF-60 has many modern features that are constantly updated to make it more efficient, even when the machine is operating at a high capacity.
Automatic ink replacement system
This system includes 2 ink tanks on each color, allowing loading into 880cc ink once for automatic printing. When the ink is depleted, the replacement ink is automatically loaded during printing without affecting the image quality.
Easy to use: Smart design is easy to operate
Like other Roland models, the RF-640 is designed for users who are easy to install and use. Front-mounted cartridges make it easy to replace and minimize stains when printing. 2 levers are installed in the front and back of the printer for easy operation. The specially designed stand helps keep the heaviest rolls of rolls in place. In addition, the RF-640 is equipped with adjustable handles on both sides of the scroll system, which helps to keep all the smallest corners of the decal.
Smart technology: Manage and operate on electronic devices
With the RF-640, we introduce an application called Roland Printer Assist, a special application that allows you to operate all remote functions. With this application, you can monitor printer status and manage tasks from your tablet in the most convenient and efficient way.
Technical specifications
Printing technology
Piezoelectric inkjet
Media
Width
259 to 1625 mm (10.2 to 64 in.)
Thickness
Maximum 1.0 mm (39 mil) with liner
Roll diameter
Maximum 210 mm (8.3 in)
Roll weight
Maximum 40 kg (88 lbs.)
Core diameter *1
76.2 mm (3 in) or 50.8 mm (2 in)
Printing Width *2
Max. 1615 mm (63.6 in.)
Ink cartridges
Type
Roland ECO-SOL MAX 2 INK
Capacity
440 cc
Colors
Four Colours (cyan, magenta, yellow, and black)
Print resolution
Dots per in
Maximum 1,440 dpi
Print Modes
Resolution
Pass
Speed
Max Speed (Banner)
360x360
1
49 m2/h (521 sqft/hr)
Billboard (Banner)
360x720
2
27 m2/h (289 sqft/hr)
High Speed (Banner)
360x720
3
18 m2/h (194 sqft/hr)
Standard (Banner)
720x720
5
13 m2/h (141 sqft/hr)
High Quality (Banner)
1440x720
6
6 m2/h (63 sqft/hr)
High Speed (Vinyl)
360x720
3
19 m2/h (199 sqft/hr)
Standard (Vinyl)
540x720
5
13m2/h (141 sqft/h)
720 x 720
6
11m2/h (117 sqft/hr)
High Quality (Vinyl)
1440x720
8
4 m2/h (47 sqft/hr)
Distance accuracy *3 *4
Error of less than ±0.3percent of distance traveled, or ±0.3 mm, whichever is greater
Media heating system *5
Print heater
Setting range for the preset temperature: 30 to 45¼C (86 to 112¼F)
Dryer
Setting range for the preset temperature: 30 to 50¼C (86 to 122¼F)
Connectivity
Ethernet (10BASE-T/100BASE-TX, automatic switching)
Power-saving function
Automatic sleep feature
Power requirements
AC 100 to 120 V ±10percent, 8.2A, 50/60 Hz or
AC 220 to 240 V ±10percent, 4.2A, 50/60 Hz
Power consumption
During operation
Approx. 1,070 W
Sleep mode
Approx. 14.5 W
Acoustic noise level
During operation
64 dB (A) or less
During standby
41 dB (A) or less
Dimensions (with stand)
2,575 (W) x 795 (D) x 1,270 (H) mm (101.4 (W) x 31.3 (D) x 50 (H) in)
Weight (with stand)
140 kg (308.6 lbs.)
Environmental
Power On
Temperature: 15 to 32°C (59 to 90°F) (20°C [68°F] or more recommended),


humidity: 35 to 80%RH (non-condensing)
Power Off
Temperature: 5 to 40°C (41 to 104°F),
humidity: 20 to 80%RH (non-condensing)
Included items
Stand, power cord, media clamps, media holder, replacement sheet cutting blade, software RIP, user's manual, etc.